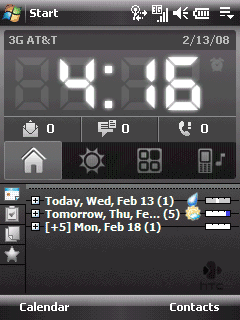 Some of my thoughts on using the HTC Touch Cruise since last Friday:
You really have to take out the battery to put in the SIM card. Took me a while to figure it out.
Very lightweight. So light it almost feels like a toy.
Fast. Way faster than the Tilt, which doesn't make much sense. Even HSDPA seems faster. It makes me wonder if the ROM cooked by AT&T is just crap.
The speaker is pretty loud, which is nice for soft ringtones and speakerphone usage.
The CD comes with Sprite Backup (v. 5.x, not the latest), TomTom 6.0.32 (with a free sampler map download), and Spb GPRS Monitor.
WorldCard is not included. The Kaiser version found on xda-developers doesn't work either.
Setting the phone up for AT&T was a no-brainer using the Setup Connection wizard.
The corded headset is also used as the FM antenna. FM Radio won't work with the Tilt or 8525 corded headsets.
The FM Radio app displays the station name and/or track info if provided.
The standard Windows Mobile Pro apps are installed by default. The only other apps I noticed were RSS Hub which is based on Ilium's NewsBreak and Opera 8.65.
The new Camera Album doesn't support the HTC Task Manager button settings. Taping/holding the X in the app, suspends it; never closes it.
Windows Mobile Device Center show a nice picture of the Touch Cruise when syncing. It always displayed a generic PDA picture with both the Tilt and 8525.
Bar none the best WinMo phone I've ever used.