8
results were found for
#
8525
...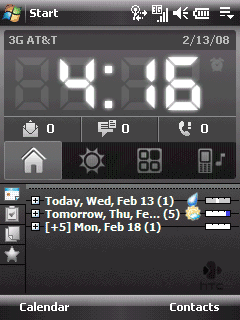 Some of my thoughts on using the HTC Touch Cruise since last Friday: You really have to take out the battery to put in the SIM card. Took me a while to figur…
Read more →
A beta version of Yahoo! Go 2.0 for Windows Mobile is finally available for my Cingular/AT&T 8525. I installed it today. It is big and quite slow even over W…
Read more →
AT&T/HTC have released a firmware update for the 8525. As previously stated, no Windows Mobile 6, just some fixes and PTT. Better late, than never.
Read more →
I have been told by a pretty reliable source at AT&T Cingular that they will not offer upgrades to Windows Mobile 6 to current Blackjack and 8525 owners. New…
Read more →
PocketPC Central has an excellent tutorial on using the Cingular 8525 as a USB Modem or Bluetooth Modem.
Read more →
By default the Bluetooth device name on the Cingular 8525 is the owner's registered name. The device name can be changed by using a registry editor to modify…
Read more →
Just got it this morning… So far, I'm pretty pleased. Stay tuned.
Read more →