Search Results for
#
j2me
…

Available for Windows Mobile and J2ME. There's also a beta version of Windows Live Messenger for mobile browsers.
Read more →
This morning, Rick wrote: Yesterday my friend Erik Thauvin and I were discussing the issue of Java ME under GPL. There are some interesting issues that may n…
Read more →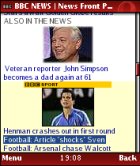 Russ is pretty impressed with Opera Mini. I couldn't agree more. Web browsing has been so much more enjoyable since I've installed it on my RAZR last november.
Read more →

[@397] YahooME 0.1 I've just released YahooME 0.1 which is an adaptation of GooglME for Yahoo!'s recently announced SMS search service. As usual, to download…
Read more →

[@958] GooglME 0.4.2 I've just released GooglME 0.4.2. This version includes the latest round of fixes for the Sony Ericsson T616. Since I don't have a T616…
Read more →

[@879] GooglME 0.4.1 I've just released GooglME 0.4.1. This version fixes a problem with sending SMS on a Sony Ericsson T616. Thanks to John for reporting th…
Read more →