15
results were found for
development
...

Did you know that the first programming language is over 100 years old and was written by a woman, Ada Lovelace?
Read more →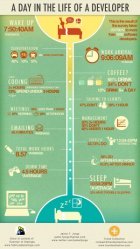 For the first time, an infographic showing what programmers do from waking up and going to sleep!
Read more →

2011 proved to be the year of the hack, so logically, the need for developers to practice more secure application coding is more important than ever.
Read more →
What is Syntaclet? As a programmer it's very common to be surfing the interwebs for various code snippets and examples. The problem is many websites have poo...
Read more →

Ever since I finished reading Joe Armstrong's "Programming Erlang", several details have been nagging me but I haven't been able to put my finger on them......
Read more →