5
results were found for
2007-07-14
...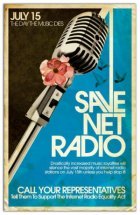 The music industry won't impose higher royalty rates on Webcasters—yet. Stay tuned, though... Could it be the music industry is finally getting a clue?
Read more →

How some extremely smart hackers pulled off the most audacious cell-network break-in ever. A little old, but a good read nonetheless.
Read more →

Undercover Congressional investigators set up a bogus company and obtained a license from the Nuclear Regulatory Commission in March that would have allowed...
Read more →

See Adobe's Interactive Wall, featured in the New York Times.
Read more →