6
results were found for
hardware
...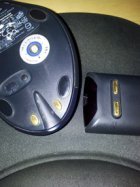 Are you always having to fiddle around with the gold connectors on your rechargeable mouse, remotes, etc.? I do.
Read more →

If you are ever in need to rollback the firmware on your LaCie Ethernet Disk Mini. Here is how to do it... There are two ways to reset this unit to its defau...
Read more →
As anybody seen the D-Link DSM-520 firmware upgrade that was promised on October 4th? Nothing on the ftp site, yet.
Read more →

I just ordered a Sony VAIO VGN-SZ680. Configured as follows: No Integrated Wireless Wide Area Network Wireless LAN (802.11a/b/g/n) Microsoft Windows Vista Bu...
Read more →

Funny. Russ went to Home Depot over the weekend. So did I. He found some cheap Ethernet cables. I found some cheap 4" cable ties which are just prefect for n...
Read more →

[@798] NeatReceipts I just bought a NeatReceipts scanner. I spend most of the weekend scanning 3 months worth of receipts. Overall it's not a bad product. Th...
Read more →