5
results were found for
nexuss
...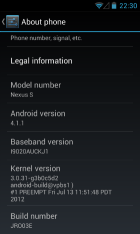 I just upgraded my Nexus S to Jelly Bean over-the-air...
Read more →

Yes, it did. In order to complete my iPhone 4 upgrade to iOS 5, I had to remove the SIM card from my Nexus S and put it into the iPhone. Unfortunately once I...
Read more →

140 total, 124 free (88%), 16 paid (11%), 303MB total size µTorrent Remote Akinator Amazon.com Amazon MP3 American Express US AndChat (Free) AndFTP AndroSens...
Read more →
Just picked a Nexus S from Best Buy in Marysville...
Read more →