4
results were found for
2011-04-06
...
Granted it's rapidly turning to rain, but still...
Read more →
I was wrong it is still coming down. Not sticking to the ground, yet.
Read more →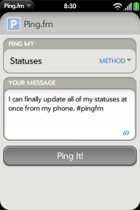 HP just approved my updated version of Ping.fm for webOS. Version 1.0.2 adds support for cross-app launching and international characters. Cross-app launchin...
Read more →