Christmas Day
Have a Rockin' Christmas Day!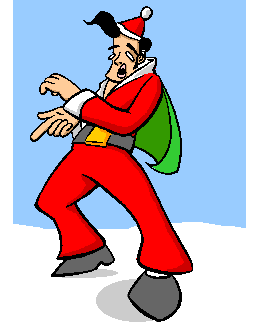 Where is Santa? NORAD tracks Santa every Christmas eve, following his trek around the world for children everywhere.
Salon Entertainment: Editors' Pick. The year's best (and funniest) articles. If you haven't figured it out by now, Salon is one of my favorite news site.
Nomad Portable Jukebox MP3 Player Reviewed. I've been thinking about getting some king of MP3 jukebox player, but I'll probably wait a little while longer for newer/cheaper models.
Vintage Computer Ads. Brings back some memories.
OS Showdown: Windows 2000 vs. Linux. Not quite your usual comprehensive review.

S. Koreans Clash on Internet Sex Video. Apparently the Koreans have their own Pamela Anderson Lee.
Catherine Zeta Jones to be next Bond girl. If the role is anything like her head-strong performance in Entrapment, she'll get this avid Bond fan stamp of approval.