GooglME 0.4.2
[@958]

GooglME 0.4.2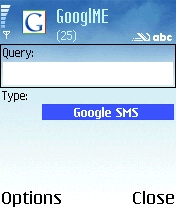 I've just released
GooglME 0.4.2
. This version includes the latest round of fixes for the Sony Ericsson T616.
Since I don't have a T616 to test with, it took me a while to figure it all out. In typical Java-fashion, write once, test everywhere.
The T616 JVM doesn't seem to like it when you attempt to store data in a separate thread. Moving the data storage calls outside of the thread fixed the problem.
To download simply point your phone to:
http://mobile.thauvin.net/j2me/