Slow Tiger Kernel
[@376]

HP Color LaserJet 2550L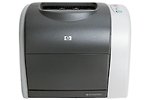 Setup wasn't too bad, though it takes a while since you have to install a print drum and 4 different color-ink cartridges. It immediately worked using our Bluetooh Print Adapater. The Bluetooth-enabled driver is built-in under Mac OS X 10.4. I'm using the HP Mobile Printing driver under Windows XP.

One drawback so far, it's big.



Slow Tiger Kernel

As an alternative to the Cisco VPN client, we've been trying to get VPN Tracker to work on Vicki's powerbook. After a few calls to the IT department, we all decided that it would be best to talk to Equinux directly. We called them yesterday morning and were told without uncertainty that the Mac OS X 10.4 kernel is too slow to handle most VPN protocols.

Apparently Apple has been made aware of the problem for a while now, and they are working on it. That would explain why Cisco was not able to get a new driver out in time for the Tiger release.



The Pulse



Erik's Pulse has been published.