Welcome back, Russ!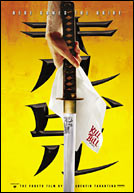 We're going to go see Kill Bill this afternoon.

Matt — Foo Camp Links: Saturday, Social Software and my camp site.

Jesus — Boolean.getBoolean not what you think it is.

Simon — Cool Tools - jEdit.

Werner — Eclipse 3.0 M4 : new and noteworthy.

Dan — 5 Million Blogs, But Lots of Abandonment.

Dan — What the heck is: A string.

Frans — JavaBlog.com must be Open Source.

Matt — A day of upgrades.

Robert — Agile Methods. The bottom Line.

I've registered the Google Tag Library on Freshmeat.

Jim — Believers in advertising.

Matt — Rendezvous at Camp Foo.

Mark — Microsoft, ECMA Seek C++ and CLI Binding and IntelliJ IDEA 4.0 New Features.

Leslie — Quick links.

Charles — Why Sculley's Wrong About Apple and Intel.

Chris — Decent free Windows FTP client.

JavaBot TNG 0.12, a Java IRC bot.

Chris — Trying out compilers.

Student sued after revealing CD copying secret. That darn Shift key.

Diego — psion-ce.

T9 for the P800 is now availabe. eZiTap has released T9 for the P800.