Surgery Update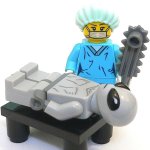 Tomorrow is d-day, 11 am.
Just talked to the resident surgeon, and things are not looking as well as expected. They have decided to go with full-frontal incisions instead of laparoscopy. The small bowel is too inflamed, they are afraid to mess things up. Epidural, here I come.
More annoyingly, because of the inflammation, I will most likely end up with a loop ileostomy. Not quite what I was hoping for, but I should be able to recover relatively quickly. I'll need another surgery to reverse it in a few months.
Thanks to everyone who sent well-wishes, called, etc. It's all very much appreciated. Vicki will be posting updates on FaceBook. I'll be high on narcotics.