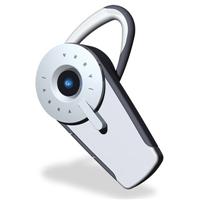 Since I've gotten so much mail & IMs regarding my Jabra BT800 Bluetooth headset, I figured I'd post a mini-review to answer most of the questions I've received.

Package



The package comes with a leather holster, a power charger and a standalone USB cable.

The socket on the headset itself does not work with the standard USB connectors; you must use the provided cable if you want to charge it over USB on your PC.

Frist Impression



Wow, this is light. I was expecting it to be much heavier when I first lifted it.

Pairing



Pairing is a breeze. You simple poke a tiny pairing stylus into a little hole on the headset to enable discovery. This can also be accomplished via the headset's menu system.

The headset can store pairing information for up to 8 devices.

Jog



There's a jog dial with a center button (which is also a blue LED) on the outside of the headset, and two buttons at the bottom of the arm. The display is located on the inside of the arm. The mic is located at the end of arm, facing outward.

The jog button and dial are used to access/navigate the menu system. Navigation is very straight forward, as are the various settings.

The jog dial is also used to control the volume during a conversation.

The jog button is used to enter the menu system or mute the headset during a conversation. The button's LED light flashes once every second during a conversation, once every 3 seconds in standby. There is a setting to turn the light off.

Menus



Using the menu system, you can configure various ring tones, or choose your phone's current ring tone. You can also set the ring type from silent to vibrating. Since there is no speakerphone the ring tone is not audible unless you're actually wearing the headset.

The vibrating mode is fairly gentle, which is good, especially when the headset is on your ear.

The menu system can also be used to view and call any numbers from the Call List, the caller ID information for received calls. This basically means a phone number. It does not display the caller's name.

Buttons



The two buttons located underneath the bottom of the arm are used to answer and hang-up calls. The hang-up button is also used to turn the headset on/off.

Clicking the answer button once will start a voice activated call. The manual recommends recording all of your voice tags using the headset, and they are right. I had no problems initiating voice activated calls on the phone directly, without the headset, after re-recording them. There are audible markers that clearly indicate when to start saying a voice tag and whenever a voice tag is not recognized.

Clicking and holding the answer button will automatically call the last dialed number.

When receiving a call, the answer/hangup buttons are used to accept/answer or refuse the call. The blue-backlit display lists the caller's number as well as labels for the buttons.

Good Fit



I was a little worried of the over-the-ear fit and weight, but it's really comfortable, even after wearing it for a few hours at a time.

I even tried it with sunglasses on, no problems.

Sounds Good



Over the weekend I had a chance to try the headset in various conditions. In a store, at the movie theater, in cars, outside, inside, etc.

I was a little afraid of pickup too much ambient noise while in the car with the radio on, but had no problems making reservation to a restaurant on Sunday night while speeding down the freeway.

I called a few friends too, and even left a message on my answering service. Everybody said it sounded great.

On the reception side, it just sounds great too, at least as far as 15-20 feet from the phone. Anything further and it feels like the caller is underwater. The connection will ultimately break off but promptly resume when back in range.

Overall



Very pleased. For the first of its kind, it's definitely doing more than I expected.

Drawbacks? I've yet to find anything major. It is so simple and straight forward that everything works as advertised.

The price is a little steep, but it's already selling for $10 less than when I ordered it.

Finding one is another story. Don't be surprised if stores are all back-ordered. I had to wait a couple weeks for mine.