Found
12
results for
#
amanda
…
Dinner at Ivar's in Mukilteo with Patti and Amanda.
Read more →

We'll be attending a birthday party for Vicki's niece, Amanda, later in the afternoon. Tomorrow, we're going to her nephew's, Jake. PostgreSQL 7.3 Released….
Read more →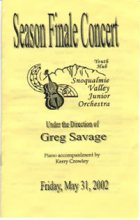 Yesterday night we attended the SVJO season finale concert. Amanda, Vicki's niece, played the Viola.
Read more →