HOPEN
[@443]

HOPEN
Would you believe that our IKEA bed broke again? Maybe I should email Ingvar and ask him if HOPEN stands for crap in Swedish.

We had to select a different model with a stronger frame. It should be delivered and installed early in the week.



HDTVs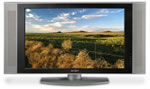 We haven't actually reconnected our digital cable service yet, but we've decided to have a Maxent 32" HD-Ready LCD TV installed on the wall in our bedroom.

We are also replacing our living-room set with an Optoma 50'' DLP HD-Ready Projection TV.



I just ordered everything from
Costco
.
Since the brilliant architect of our condo deliberately placed the phone jacks on the opposite side of the cable outlets, I'm going to have to play with a set of
Phonex wireless jack extensions
. I hear they somewhat works with TiVo.