Gold Class Cinemas: Premium Cinema Experience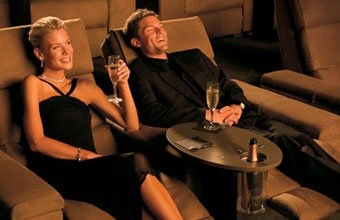 For my birthday I was given a gift certificate to the Village Roadshow Gold Class Cinemas in Redmond Town Center.
Yesterday, we went and saw Quantum of Solace in the late afternoon. Tickets are $32 per person.
We had called earlier and they had told us some show times where already sold out, or almost full, so we were there a bit early. We were seated in the lobby, and given menus so that we could order food and drinks for the show. Since we had plenty of time we ordered a couple drinks as well as a small bite to eat.
The lobby is a nice waiting area with a fire place, and comfy seats. As Vicki pointed out, it felt a lot like the lobby of an hotel in Vegas. It's made to look luxurious, on the cheap side.
Our appetizers, the Blue Cheese Potato Chips (Housemade chips, layered warm Saga and fondue Maytag blue cheeses) was very good. The highlight of the night without a doubt.
We also ordered a couple Gold Class NY Strip Steak Sandwiches to be served at the beginning of the movie.
While we were sipping on our soft drinks and waiting for our food. I took the time to register the Gold Class Member card I asked for while purchasing the tickets. Unfortunately the card is not activated until registered online. My recommendation, register for the card before going to the theater, or do like I did and use your smartphone to registered it while waiting for the movie. There was no dedicated WiFi access in the theater, although I found a few open hotspots around, none of them seemed to work reliably though.
A few minutes before the show, we were taken to our seats. They are very comfy recliners, with some nice touches, such as storage areas in the armrests. There's a little oval table in between the seats, with a glowing call button to summon your server.
Shortly after sitting down the previews started, the movie followed right away. A few minutes into the movie, our sandwiches arrived. Since the table between the seats is relatively small, they used overly long rectangle plates to serve the food on. The sandwiches came with homemade waffle potato chips, which we both found to be too salty. The sandwiches were blah, definitely not worth $19 each. Eating dripping sandwiches while sitting in a recliner is definitely not an easy task. There's something to be said for finger food.
The layout of the theater we were in is definitely not conducive to having food served during a movie, unless you are not bothered by servers walking in front of the screen on a regular basis. I found it to be quite annoying.
I suspect that when you press the call button a panel lights up in a back room, I found that whole concept utterly stupid. Each time we had a need to press the button, servers were already in the theater, they could have come and assisted us on their way out, but apparently did not get notified until they walked out.
We ordered a $6 bag of popcorn during the movie, but had to return it as it was, again, too salty. We were told that it could not be redone as it was simply the way it came. Vicki mentioned that she thought it was microwave popcorns. I suspect they purposely go heavy on the salt to promote more drinking.
At the end of the movie we were presented with the food tab, a manager came by and told us that we would have to go talk to him on the way out as they had to process the gift card manually. We used the gift card to pay for the tickets and wanted to apply the remainder towards the food bill.
I figured being a new theater chain they'd need a little time to work these heavily technical issues out, but the manager told us proudly they had been in business in Australia for over 11 years. You'd think they'd know how to handle a gift card by now.
At the end of day we dropped around $120 in tickets, foods and drink for the two of us. The tickets were in my opinion worth it. The food is obviously over priced for what it is. We never have a problem spending lavishly for good food, just with spending too much on average food. Vicki mentioned next time she might bring a bigger handbag and stuff some snacks in it.
We'll probably go back, but skimp on the food. Overall, albeit minor annoyances, it was a quite pleasurable experience. If only the movie was better, but that's another story…