AT&T Tilt: Random Thoughts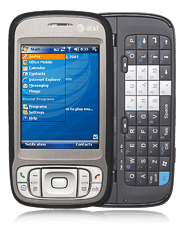 No AT&T preinstalled software. No AT&T Mall, Cellular Video, Get Xpress Mail or Get BlackBerry Connect, Trial Games, IM Client, etc. as reported by many web sites. The manual even talks about some of these things. There are nowhere to be found.
Flyer in box claims it comes preloaded with 10 free tunes. No music to be found either.
Keyboard flips open on the opposite side of 8525. Will take some time to get used to that one.
Talk/end buttons don't light up when you get a call. They are also located at the top of nav pad. Literally impossible to find in the dark.
The Messaging/IE buttons are inverted compared to the 8525.
No Comm Manager dedicated button like on 8525.
Can't directly turn WiFi on/off from the menu bar icon like on 8525, have to go to the Wireless Manager first.
Stylus is one piece, no folding.
Black matte finish on back is a finger prints magnet.
Zippy, except when loading favorites in IE, slow as molasses.
Real Player, Mobile Office and Sprite Backup included.
GPS slow acquiring satellites, even when using QuickGPS prefetching. Works well with Google Maps and Live Search.
Camera has auto-focus (yeah!), very slow shutter speed at 3MP.
Photos are saved in DCIM\100MEDIA directory at root level of storage card, like a regular digital camera.
Games: Bubble Breaker & Solitaire.
MicroSD slot at bottom. Having to slide the rubber cover makes it harder to get cards in and out compared to the 8525.
PTT button not re-configurable. Hopefully someone will write a hack for it.
Interfaces well with my Prius Navigation System over Bluetooth. I can see battery status, signal strength, etc. on Nav screen; couldn't with the 8525.
No problems syncing using Windows Mobile Device Center under Vista, USB or Bluetooth.
Task Manager includes HTC X-Button functionality and Today's screen Quick Menu.
No problems pairing and using with Jawbone.
I'll had comments to this post as I notice more stuff.