Cheap Roadster
[@953]

Elektra Trailer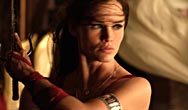 I'm there!

[@827]

Happy Birthday, Ewan.

[@750]



Cheap Roadster

I got an email from American Express about a new service they've started, My WhisList. It features a different item every day, at a special member price. Blah... blah...

One interesting item though, is the BMW Z4 3.0i Roadster for $5k, which normally lists around $42.5k. Of course the quantity is seriously limited, and you have to buy it on a certain day at a certain time. Yaddi... Yadda...

Still, pretty nifty.



Linkblog Stats

I've created a little page displaying the current stats from my linkblog. Quickly approaching 10K links, not bad for 9 months or so.



Confluenced

If forgot to blog about it, but I'm now running Confluence to power my Wiki. The folks at Atlassian were nice enough to provide me with a open source license. — Thanks, Mike.

Upgrading from SnipSnap was a breeze.

There's really nothing to report, it works as advertised. A little resource intensive for my taste, but the functionality and controls more than make up for it.