Search Results for
#
clem
…
The girls are watching Taken. Clem is not really interested… But he sure likes being on Kim.
Read more →

[@537] Cat Emergency We just came back from taking our cat, Clem, to the local emergency vet. We've been monitoring/dealing with an urinary track problem for…
Read more →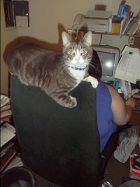 For some reason, our cat, Clem, loves to perch himself on the back on my wife's chair.
Read more →