13
results were found for
cats
...

Meanwhile Cocoa had taken over Vicki' side of the bed...
Read more →

Had to move my keyboard to get any work done...
Read more →

Both cats have taken to sleeping on my desk lately. At least Pepper is not sleeping right in front of the keyboard like he normally does.
Read more →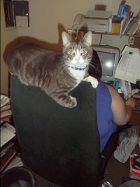 For some reason, our cat, Clem, loves to perch himself on the back on my wife's chair.
Read more →

A morning in the life of our family cats. Watcha looking at? Now that you woke me, I have to shower. Zzzzzzzz... Maybe it's time for a new flea collar? If o...
Read more →