577
results were found for
news
...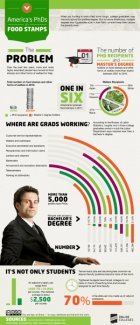 Over the past few years, a tough economy has forced highly educated people to turn to food stamps and other forms of welfare for help.
Read more →

To start off the new year on the right foot, financially-speaking, take a look at how the average household spends money...
Read more →
Black Friday and Cyber Monday aren't always the best times to buy certain items.
Read more →

Once a standard bearer of economic liberty among industrialized nations, the U.S. has dropped to 18th place, its lowest position ever.
Read more →

Put this infographic in your wallet to know what to do when bad things happen...
Read more →

The average number of hours students spend studying has dropped by over 50%...
Read more →

Failing may be key to success for startups and entrepreneurs...
Read more →