How I upgraded my AT&T Nexus S (I9020A) to Jelly Bean (Android 4.1.1)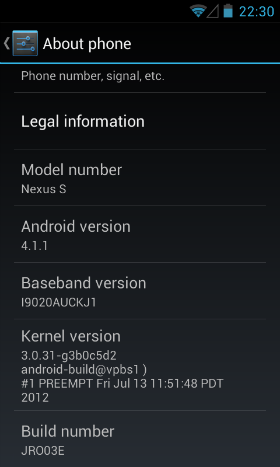 I just upgraded my Nexus S to Jelly Bean over-the-air (OTA). It only took about 4 hours to figure it all out.
I had already upgraded to ICS 4.0.4 the manual way (since OTA never came for me), but that simply did not work with Jelly Bean. I found this XDA thread which led me to try to get the update OTA. A few tweaks later I was able to successfully download the package, unfortunately it never let me install it. So close, yet so far…
A few more unsuccessful tweaks, and then it hit me…
Here is how I did, step-by-step.
Power off.
Remove the SIM.
Power on.
Turn on Wi-Fi and connect to your network (if not connected already).
Go to the System settings.
In Language & input change the language to English (United Kingdom).
In Apps select the ALL tab.
Find and open the Google Services Framework.
Tap on the Clear data button and confirm.
Reboot.
Go to the System settings.
Select About phone.
Select Software update.
The package should be downloading, wait…
Once the package is verified, you'll be offered an option to restart and install. Don't!
Turn Airplane mode on by pressing and holding the Power button.
Now, select the Restart & Install button.
That's all folks!