[@697]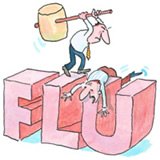 I have a cold (or maybe the flu), and I'm coughing up a storm. I stayed out in the cold wind, talking to some people in the parking lot, and I'm pretty sure that did me in.

I'm taking Oscillo which seems to help with everything but the cough.

I'm going to try some kind of nighttime cold medicine and see if can get some sleep.