March 9, 2006
[@129]
The EclipseZone Newsletter has been published.
[@998] Russ is still on his quest to become more productive. More power to him.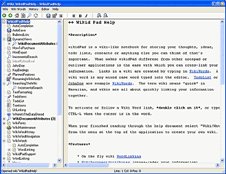 Talking about personal productivity, I've been using WikidPad lately to better organize my life. The wiki approach seems to work well as far as keeping track of things like to-do lists, stickies, urls, contacts, etc.

Over the years, I've tried many organizer-type programs. They never seem to work the way I want them to. In the end I always revert to using simple things, like notebooks and text files.

WikidPad does nothing more than provide simple hierarchies and relationships between various text files. I'm in total control.

It is so nice to finally have a single location where I can store pretty much anything I want, the way I want it to.
«
Next Day
Previous Day
»