[@859]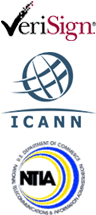 ICANN has approved a deal with VeriSign to continue manage the .COM registry.

This is a very bad deal for everyone. Well, except VeriSign, of course. They will be allowed to raise the .COM domain registration prices by 7% during 4 of every 6 upcoming years. That's right, prices will go up, not down. The price increase will start in 2007.

If that wasn't enough, the deal will automatically renew in 2012, without going through any kind of competitive bidding process. If you haven't seen a monopoly before, here's one for you.

For more information on the economics of the deal, I'd suggest reading this post by Bob Parsons of GoDaddy.

The deal still has to be ratified by the Department of Commerce (NTIA). It means that you have to get off your butt and email your senators and congressmen about it.

Not quite sure what to email? Try this:
Dear Senator/Congressman _________:

I am outraged about the recently approved .COM registry agreement and settlement between ICANN and VeriSign. This agreement is anti-competitive and bad for consumers and the Internet community as a whole.

The agreement provides VeriSign with the ability to increase prices by 7% annually in four of the next six years without cost justification. Furthermore, under the agreement, VeriSign's monopoly would run in perpetuity as the agreement would automatically renew without the opportunity for competitive bidding VeriSign and ICANN should not be allowed to establish a perpetual monopoly without Congressional oversight and the opportunity for input from the Internet community.

As your constituent, I want to make you aware that the ICANN Board has approved this anti-competitive agreement on February 28th, 2006. The next step is for the NTIA to approve the deal. I urge you to bring our concerns to the attention of the NTIA.

Sincerely,

Your Name
Your Full Address
Be sure to include your full address. They are required-by-law to answer if you live in their states or districts.

Why are you still reading? Get moving.