Sony VAIO VGN-S360
[@230]

Sony VAIO VGN-S360

Yesterday afternoon, Rick and Matt asked me to pick them up from the Microsoft Campus. We decided to stop by Fry's on your way to dinner. It sounded like a good idea since Matt had never visited one.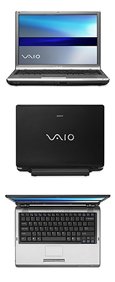 Little did I know that it was also a ruse to get me something...

As a thank you gift for working on the The Pulse, they decided to buy me a Sony VAIO VGN-S360 laptop.

Wow... I'm still in shock!

This is undoubtedly one of the nicest gift I ever received from someone. Thanks!

I just love it. 4.2 pounds of joy. Perfect size, perfect weight. A workhorse too. Finally a laptop I won't mind carrying around.

I've spent part of the morning setting it up. I just couldn't stay away; it was calling my name. The more I use it the more I like it. A totally blissful experience.

Of course I immediately ordered some extra memory, a neoprene carrying case, and a Belkin F8T001 Bluetooth USB adapter. [I've chosen a Bluetooth dongle that supports the headset profile in hope of being able to connect my Jabra BT800 through it. So far I've not been able to use it with a PC or Mac.]

There's nothing much else to say, except thanks once again. This really made my week.



Happy St. Patrick's Day!