Snow!!!
Thanks for reading. See you next year!

[@233]



My Year in Review:


315 blog days.
2.5 million visits.
35 million page views.
240GB of bandwidth.

Which explains why I started an Exclusive Sponsorship Program.

I also released the Google Tag Library into the OSS world, bought a Zaurus and began writing Erik's Pulse.

We made one addition to the family, and one departed unexpectedly.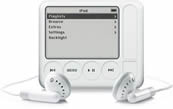 FileZilla 2.2.3, a fast FTP client for Windows with a lot of features.



101 Ways To Save The Internet. 101 ways to save the Internet from spammers, crackers and smothering regulation.



Carlos — 2003 in review - presentations and articles.



Ted — Microsoft buys BEA?



Java FSP Library 1.0rc2. FSP protocol support for Java.



Java Tools Community Effort Back on Track. The plan to build a ecosystem of Java tool frameworks based on open standards appears to be finally gathering steam.



Netcraft: January 2004 Web Server Survey.



Finding MD5 Collisions With Chinese Lottery. Stealing idle CPU time.



Joi — Some 2003 site stats.



Interview: MySQL CEO Mickos Addresses Critics, Looks to Open-Source Growth.



Top Spam For The Year: Viagra, Mortgages And Porn.



Linux Today: Top 10 Stories of 2003.



Bill — Meta Best of 2003.



Mobitopia: Happy New Year!



Ted — My year in review.



Novell Registers Unix Copyrights. Novell has quietly registered for the copyrights on many versions of Unix code that the SCO Group says it owns.



Paul — Enough with the Test Driven Development Hype.



Luke — 2004, here I come.

[@912]



Konqueror successfully compiled for OS X. Benjamin Reed has compiled Konqueror for Mac OS X, after recently porting the KUniqueApplication class.



Analyst encourages Microsoft acquisition of BEA. Combined companies would give marketplace more software choices.



David — Happy New Year Blog!



First external USB HDTV tuner. The OnAir USB HDTV from SASEM.



Groups Promote Recycling of Tech Gadgets. Environmental groups are getting ready for a surge of electronic devices that could be recycled or reused.



Hani — WebWork 1.4 Interceptors with Spring.



Vattekkat — Cool tools.



Keith — Links.



Matt — Send a Fax from Java?



Carlos — 2003 in review - all the releases I could link to.



Mark — do not parse html with regexes.



New Products at MacWorld Expo. A short list of new products to be launched.



Macworld review: Digital Performer 4.1.



UMLet 2, a Java tool to rapidly create UML sketches.



Review: Gateway DMP-X20 Digital Music Jukebox.



Mitnick to exploit hackers for $500 a pop. Fame and glory awaits.



Movie ticket prices rising. Loews Cineplex and United Artists, 25 cents.



AP: Wal-Mart Music Download Service Mediocre.

[@765]



Frank — Text Messaging For Americans: a european take.



Marc — So long 2003...



Sam — Syndication and CSS.



Daniel — Year end notes.



Review: XMLSPY 2004 from Altova.



Martin — 2003 => 2004.



Matt — Leo Laporte: KFI's Tech Guy and RetroBox: Cool Cheap Old Gear.



Russ — New Year's Stuff.



David — Sony Ericsson P900 vs Nokia 7650 Picture Quality Test.



Apple unlikely to release smaller, cheaper iPods. Aren't rumors fun?



Emily — Phil Kaplan of FuckedCompany.com launches an anonymous moblog.



Alan — Setting up MailScanner on Redhat 9 and Linux Shell Script for testing for disk size.



Dion — Opinion: The End of the Beginning?



Marc — we need Reflection in MIDP.



Michael — JXPath to rescue!



Jack — Responses to last month, and December Java Performance News.



Matt — Jalopy source code formatter no longer free.



Adrian — The long hand of RIAA or simple plain dumbness ?



Eric — Why the FAA worries about your cellphone.



Danny — Raptor 1.1.0 released.



XFree86 core team disbands. XFree86 core team leader David Dawes has sent out a message stating that the core team has voted to disband itself.

[@488]



Russ — Received Messages.



Rael — Online Sony Ericsson Phone Configurator.



Daniel — CryptoPhone's limited "open sourceness".



Review: Toshiba e405 / e400.



Jus — Javascript and Form Trickery.



Lowem — How fast can you read?



Shay — The Java persistence poll results are in.



Leslie — Quick Links.



Bill — Reading for 2004.



Mark — My new book 'Java 10 Minute Solutions' is in print.



Bill — Sir Tim.



Charles — Valid HTML Woes.



The Year's Top Tech Movers and Shakers. eWEEK.com editors recognize some of the year's most influential figures in tech.



Wireless Firm Rings Up 'King'-Sized Entertainment. Jamdat Mobile unveiled a collection of products based on "LOTR: The Return of the King."



Quantum Framework for Java. A port of Miro Samek's Quantum Framework.



JavaAPI View and Search Tool — JawaAPIHelper1.4 released.



JComposer is now OpenSource. JComposer aim to be a complete Java based music composition tool.



Andrew — List of free Java books for download (ver. 0.1).



Werner — Java Development with Ant : "good read".



Rob — Snow in Puget Sound Country. There's currently a little over 1 inch in Bellevue.



UK's 'Most influential' websites named. Google, eBay and Friends Reunited.



Tokyo Edge: New Gadgets for the New Year.



Today's sponsor is Atlassian.