Found
65
results for
personal
…

Foursquare crunched the numbers on all my check-ins (ever!).
Read more →

I just moved all of my CVS & Subversion repositories over to GitHub.
Read more →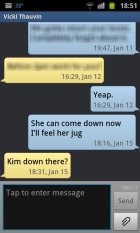 Ma grand-mère vient juste de mourir paisiblement dans son sommeil. Elle avait 98 ans. My grandmother just died peacefully in her sleep. She was 98 years old.
Read more →

I missed it but December 1 was the 10th anniversary of this blog. Still running the same code I wrote 10 years ago.
Read more →