Galaxy Tab 10.1 & Staples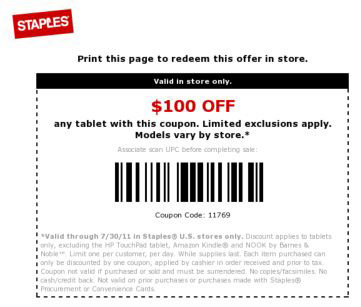 I wanted to share my experience with purchasing a Samsung Galaxy Tab 10.1 from Staples using a coupon for $100-off on tablets.
I received the in-store only coupon on Wednesday in a bulk email from Staples. Since I was looking to buy a Galaxy Tab, I searched on their website for availability. It was listed as in-stock in all local stores within a 20 miles radius.
Later that afternoon, my wife and I headed to the closest store with my coupon in hand. In the store, I quickly scanned through the available tablets on display but the Galaxy Tab was nowhere to be found. I asked one of the sales guy about it, and he said they did not have them, yet. I asked when they would get them, "Six months, maybe". I told him that was funny, considering that the website stated they had them in stock. He then pointed me to the store's assistant manager as the person to talk to.
To my surprise the assistant manager told me they had them in the back but could not sell them. He said something to the effect that they were not 'released' yet. When I pressed for more details, he offered to check on it, and disappeared in the back room. He came back a few minutes later with a printed directive clearly stating that they should not sell, or display the units and return all stock by the 26th. I asked if the directive would apply to other stores, "Yes. District-wide".
We left and I immediately started calling other local stores, 3 of them. They all claimed they did not have them available for sale. Bummer.
I started to think that maybe this was a local problem. I could maybe have a friend in another State pick one up for me. I asked Russ in California and he gave me the number for his local store. I called them on Thursday.
Are you selling the Samsung Galaxy Tab 10.1?
No.
When will have it available?
Probably never.
Funny. The website states it is in-stock at your store.
The website is wrong.
Click.
Wow. Not a good start.
I have a friend who lives in Lake Havasu, Arizona. Staples is right down the street from him. So I decided to call them too. On the phone system I was given the option to talk to an "Easy Button" technology specialist, so I picked it.
A nice kid answered… Same tactic…
Are you selling the Samsung Galaxy Tab 10.1?
No, I haven't seen it yet.
When will you have it available?
It should be real soon.
Funny. The website sates it is in-stock at your store.
How would you know that?
It's right there on the website. Availability: in-stock
Oh, maybe they've arrived. Let me check with my GM.

Then he puts me on hold. Nickleback is playing. I hear some kind of ruffle a minute or two later. Click. Disconnected… Redial. Ring. Ring.
Hi. This is Brendan. How may I help you?
Hi. I just called about the Galaxy Tab.
Oh yes, sorry we got disconnected. My GM is looking into it. I'll put you on hold.
Don't drop me this time.
Haha. Okay.
Nickelback is still playing.
Yes, we have them. They just arrived. $499.99 for the 16MB Galaxy Tab 10.1 WiFi.
Perfect. That's exactly what I was looking for.
I called my friend; he picked it up 35 minutes later. $435.39 w/ tax out the door and $10.50 shipping.
Something's fishy here. I have a strong suspicion Staples is holding their stock back until the coupon expires, or maybe the first shipment was defective. Hopefully I didn't just buy a $400 dud.