[@766]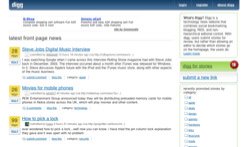 I dig Digg. Great idea, nice enough implementation. But seriously what are Kevin and cohorts thinking?

I understand they want to expand beyond tech news. Great. Better start thinking about clever ways to attract a lot more users. Does anybody really think a threaded comment system is actually going to help? Of all things that could be improved. Get serious.

Digg clones are dime a dozen. I'd hate to have someone with real business savviness steal their thunder. And don't fool yourself, the big guys are more than thinking about it. Google's new bookmarks comes to mind.

I know the Yahoo! acquisition was just a rumor, but please... put Digg out of its misery and gobble it already. Digg's next move is out of its league.

Incidentally, Newsvine just opened its doors to the public.