Happy Turkey Day!
[@002]

Happy Turkey Day! I'm off to prepare my bird and bake a pie...

[@954]



Singing Horses flash movie. Click on each Horse to make him perform!



New JSR's: Java Compiler API and Class Compression Format.



[email protected]

4.0, IBM XML Certification Test Simulator released.



Matt — Oslo - New Project admin tool.



Sjoerd — RSS to RDF Converter.



Werner — using Clover on deployed J2EE apps.



SuperWaba 3.3, a JavaVM for PalmOS devices.



Anger as Microsoft hires EU official.



New worm adds insult to injury.



DNA jewelry: A gift that screams you.



The rise and rise of Websphere.

[@616]



Too many Java blogs?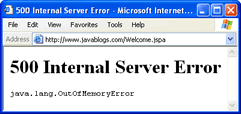 [@610]

Joost STX processor, an open source implementation of the Streaming Transformation for XML language.



Zaval File Search 1.3.0, an open source local area network tool designed for fast file search on SMB shares and FTP servers.



Bond Gadgets Not Just Movie Magic.



mozilla.org's Phoenix Project To Be Renamed.



Roman — Java libraries - all-at-one-place!



My name is... Oh, forget it.

[@499]



Thanksgiving turkey flash animation.



Taglibtools, a package of utility tools for custom tag library developers.



Salsa, a collection of Swing add-ons.



Amnesty Calls Shenannigans on MS, Sun, Cisco.



EchoStar Plan to Get Hughes Is Revised. Dish Networks is trying to buy DirectTV.



Roman — Guess-what 683 guess-what... New IDEA build!